This certification exam path has two major steps. They are,
STEP 1
is the Prior Certification : For this OCPJMAD exam you need to finish Oracle Certified Java Programmer (OCPJP any version) as step 1.
STEP 2
is nothing but passing the 1Z0-869 Exam. Once you finish this 2 steps successfully you are certified as the OCP Java ME 1 Mobile Application Developer.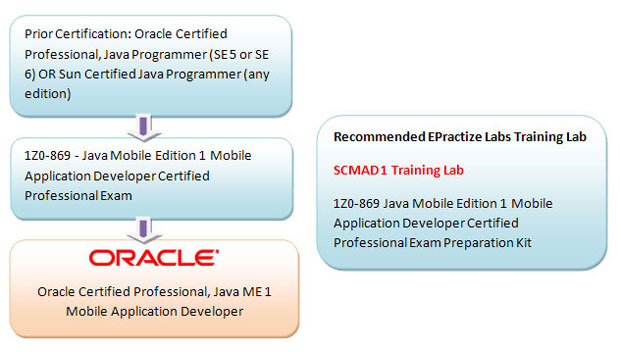 OCPJMAD Certification
This Mobile Application Developer certification is for developers who create mobile applications using Java technologies for cell phones or "smart" devices. Passing this exam certifies that the candidate has achieved a standard level of proficiency with mobile Java technologies, as well as with the Java Technology for Wireless Industry (JTWI) specification, including the Wireless Messaging application programming interface (API) and Mobile Media APIs.
Read complete information about OCPJMAD Certification Path in
this
linked article.